A friend of mine is spending a few days with his 3-year-old granddaughter in another state. He has a new iPad and asked me to put together a list of recommended iPad eBooks and eBook apps for kids for her. I have several on my iPad my niece (20 months) and nephew (almost 4!) absolutely love to read when I'm with them (although my niece loves to push the home button; child proof button lock needed!).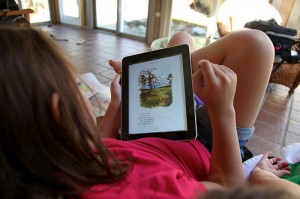 Unfortunately, I haven't had a lot of luck finding free eBooks for kids (young kids, that is). I've found a few here and there when there are specials, but to get the full audio + read to me/read myself part that the kids are fascinated by, I've discovered you have to pay for them.
If you know of any good free apps for the iPad, please leave comments for sure! I haven't explored the B&N eReader or Kindle or Stanza or other eReader platform stores for kids books yet. I'm sure there are lots more out there, including books in the Project Gutenberg archive (many of which can be accessed through iBooks.
A couple of technical notes.
For the iPad, make sure you download the iPad only app version or apps that say they'll work on both iPads and iPhones (known as universal apps). Otherwise, you'll be disappointed in the experience.
All the app links below will either take you to an website that prompts you to access the iTunes store to look at the app or will immediately launch iTunes
Here's the list I'm sending him:
Standalone Book Apps I Own
*Universal=works on both iPhone and iPad; only have to buy once.
iBooks Kids Books I Own
Winnie the Pooh (comes with the iBooks app when you download it) — Free
Sleeping Beauty and…something (can't remember the title at the moment)
"The iPad meets the Children's Book" article mentions a lot of other recommendations.
Other Recommendations (but I haven't tried out yet)
I may add more to this list, especially as I discover more books for my niece and nephew to explore.
Photo Credit: "iPad day" by Flickr user travis_warren123 under a Creative Commons License.